BlackBerry Announced Playbook, Complete Tablet for Professionals
Research in Motion has just announced a competitor iPad tablet called the blackberry. This announcement was submitted by CEOs of RIM, Mike Lazaridis, in the event DevCon 2010 in San Francisco after giving some information about some new services such as payment of BlackBerry applications BlackBerry, BlackBerry Intelligence Service and the opening of the fuel as a social platform.
Lazaridis described the tablets as the first professional tablet that can access the web as a whole. Playbook can display content from a BlackBerry smartphone that is placed in a pairing. Also mentioned also that the Playbook is an amazing gaming device and "open a new era of computing that can be gripped in your hand."
Playbook do not have a cellular connection but this device can be connected wirelessly via pairing with BlackBerry. Playbook planned for early 2011 and rolled forward to say there are plans to make 3G and 4G versions of these tablets although not say when the plan will be realized.
Interestingly Playbook not use BlackBerry OS 6, but using a new platform created by QNX, the company that bought RIM early 2010.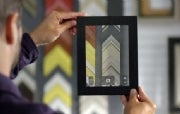 Here are some key specifications of the BlackBerry Playbook as quoted from RIM:
- WSVGA LCD capacitive touch screen
7 "(1024 x 600) which supports multisentuh and gesture (movement of the hand / finger)
- BlackBerry Tablet OS that supports symmetric multiproses
- Processor 1 GHz dual-core processors
- RAM 1 GB
- Dual HD camera (3 MP in front, 5 MP in the rear), supports 1080p HD video recorder
- Video Player: 1080p HD, H.264, MPEG, DivX, WMV
- Audio Player: MP3, AAC, WMA
- HDMI output port
- Wi-Fi - 802.11 a / b / g / n
- Bluetooth 2.1 EDR
- Connector: microHDMI, microUSB charger
- Flexible and open application platform that supports WebKit/HTML-5, Adobe Flash Player 10.1, Adobe Mobile AIR, Adobe Reader, POSIX, OpenGL, Java
Very thin and portable, size 5.1 "x7.6" x0.4 "(130mm x 193mm x 10mm)
- The weight of approximately 0.9 lb or 400g
RIM also says that features and other specifications of the BlackBerry Playbook will be delivered later on or prior to the launch, including plans for 3G and 4G models.