LG Star Appears Again, Defeat Nexus in Benchmark Test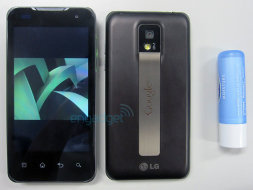 LG Star, Android handsets which powered by Tegra 2 re-emerged two pictures. In this leaked handsets that will use dual-core processor is seen using Android 2.2 Froyo customized. It is estimated that this handset will be using Android 2.3 Gingerbread.
In one photo is also seen that the model number LG P990 Star. It is not known specifications of the Tegra 2 which will be used on this handset but it can be seen that the LG Star is able to outperform value Nexus with Froyo on Quadrant test.
From the image also appears there 8MP camera plus flash LED. There's an HDMI port on the top so that the predicted LG Star will support HD video. There is also a sign No SIM in the picture so that it can be ascertained that this is Star LG GSM and not CDMA phones such as the first estimate.
Before this there was also leaked an LG U3000 handset that is taking Froyo, using a camera that can record 1080 and using the flash. Looks like both of these handsets will have a lot in common.