Nokia C5-03 has been available, Price at $ 290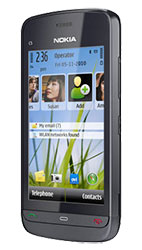 Nokia has released the availability of new touch-screen phone that is coded C5-03.Packaged in a youthful design, this phone is yet another smart phone with affordable price and save on budget expenditure.
Phones that have been announced by mid-October and has been equipped with great connectivity and use OS Symbian S60 5th edition. In addition, Nokia C5-03 has been equipped with 3.2-inch resistive touch screen with 640x360 resolution, Wi-Fi, 3G, GPS, Ovi Maps with free navigation, the integration of social networking (Facebook, Twitter, MySpace), Nokia Messaging, a 3.5mm headset jack , FM radio, 5MP camera, and MicroSD support.
As announced earlier, Nokia C5-03 was promised to be rewarded with a retail price of $ 225 before taxes, but this phone was priced $ 290. The possibility of higher prices was due to enter the Christmas holiday and the end of the year.