Sammy's Galaxy Mini 2 will not be pimped by jelly bean at all
Samsung Spain has tweeted on its twitter handle that due to not optimum user experience on Galaxy mini 2 the samsung will not be providing an jelly bean update for the handset though samsung had made contrary announcement earilier but now with this tweet the clouds are now shed and Galaxy mini 2 users have to stay with Gingerbread that came bundled with handset.
Here is the tweet :-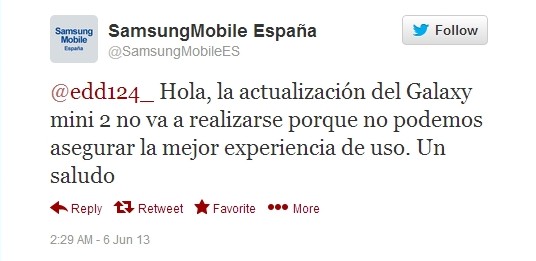 ESP to ENGLISH TRANSALTION
Hola, la actualización del Galaxy mini 2 no va a realizarse porque no podemos asegurar la mejor experiencia de uso. Un saludo



Hi

, updating the

Galaxy

Mini 2

not going to happen

because we can not

ensure the best

user experience.

A greeting



Hmm this will upset lots of mini 2 users who were waiting to get their hands dirty on it but will have to now stick with gingerbread only.
Samsung Galaxy mini 2, released in March of 2012, runs on a single-core 800 MHz processor with Adreno 200 graphics, with a 3.27-inch 320 x 480 pixel display. It comes with Android 2.3 Gingerbread.
Pimp Android verdict sorry for mini 2 users :(
SOURCE