Sonim XP1300 Official Core Supply, World's Best Tough Mobile Phone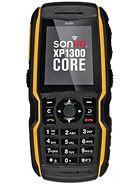 After the rumors some time ago, Sonim XP1300 Core finally officially launched. This powerful mobile phone
GSM handset said to be the first to get the IP-68 rating so it can be drowned in water up to 2 meters deep.
This handset has the injection of two-layer shell is covered with hardened rubber and glass fiber (fiberglass) and meet MIL-810 certification of the United States to hold moisture, smoke, salt, heat shock or fall.
Other features Sonim XP1300 Core are as follows:
- Gorilla Glass Screen 2 inch scratch resistance with high resolution
- Hold the fall of 2 feet above the cement
- Microphone noise reducer
- MP3
and video player
- Talk time up to 18 hours
- Standby time up to 800 hours
- Can operate from -20 degrees C to +55 degrees C
- Guarantee the entire device for 3 years
Sonim said that the XP1300 Core will be available worldwide starting in November. The price in the United States is $ 399 without a contract.